Xinjiang Holy Xiong Energy Development Co., Ltd. 1000GF / 400GF generator set project
Views:0 Author:Site Editor Publish Time: 2021-01-14 Origin:Site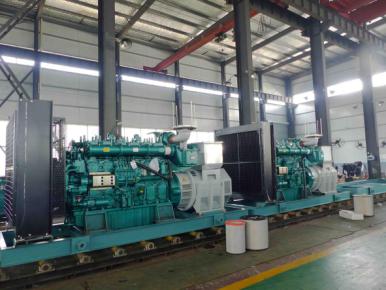 Xinjiang Holy Xiong Energy Co., Ltd. is the Zhejiang Holy Group in responding to the call of the development of the country, with Xinjiang as a strategic base for the development of the group company, in 2006, in 2006, a new type of industrial enterprise invested in the new office in Turpan area, the company registered capital 10 100 million yuan, mainly engaged in the development, utilization and deep processing of mineral resources. The company is closely combined with the development ideas of chemical industry in Turpan, comprehensive utilization of Takson County in water, electricity, coal, limestone, salt, etc., in Takson County fish ditch (where the land of Urumqi Nanshan Mining area) built a large At the same time as the production of PVC, the industrial park is combined with the exhaust gas, waste sagging and wastewater produced by the production process, and has created an environmentally friendly industrial chain of energy conservation, green, cycling and sustainable development. At present, the first phase of 600,000 tons of electric stone project has been put into production, and the second phase of 500,000 tons of PVC project is about to start. In the next 10 years, our company will further invest, roll development, and ultimately built a large PVC processing base with 2 million tons of capacity.
Xinjiang Holy Xiong Energy Co., Ltd. is a modern coal chemical enterprise with a circular economy industry and production of high value-added chemical products in the development of coal-fired salinization. It is also a five hundred companies in China. Through advanced process technology, it ultimately realizes the comprehensive reuse of waste gases, waste sagging, wastewater, to create energy-saving, green, cycling, and sustainable environmental protection industrial chains.
In March 2008, the company began building coal-electricity salinization cycle economic projects in Takson County in March 2008. It has been accumulated by 2 billion yuan.
Di has an annual output of 600,000 tons of electric stone, 600,000 tons of lime, 2 million tons of lime, and 2000,000 tons of land have formed production scale and put into production. The annual output value can achieve 35 billion yuan, and more than 3,000 employees have existing employees, including 43% of the total number of employees. In the first phase, it has produced 500,000 tons of PVC, 400,000 tons of fire base and 1.5 million tons of cement projects have been approved by the Autonomous Region National Development and Reform Commission, with a total investment of 3.9 billion yuan, scheduled to start in September this year, and planned 18 months.
The company's overall plan of 200,000 tons / year PVC project is implemented in three phases: the first phase of 500,000 tons / year PVC project is produced in an electric stone acetylene; two, three phases are 750,000 tons / year PVC project, with coal multi-production Production of PVC and Coal Dynamic and Chemical Products and Coal Protection Products in MTO. Combine coal chemical, chlorine-alkali chemical, and coal chemicals, thereby forming a new high-tech, circular economy, and large chemical production base of coal chemical, chlorine-alkali chemical, coal coaching. Processing park.
Our company provides China Stone Factory Project 1000GF / 400GF, Xinjiang Xinjiang Holy Xiong Energy Development Co., Ltd.Diesel generator sets1000GF is the Cummins generator set, 400GF is YuchaiGenerator set, The current generator set has been delivered, the installation and commissioning, welcome users to find: 18999222000, 400-0991036