Office new to two diesel generator sets
Views:0 Author:Site Editor Publish Time: 2021-03-10 Origin:Site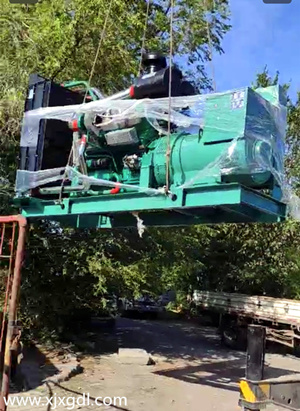 On June 24, 2019, the office new to two diesel generator units. The company has been unloading the equipment, and after the customer has the unit entrance conditions, the after-sales engineer will enter the field together, and install, Combating diesel generator sets.
The technical indicators of diesel generator sets manufactured by the company are in accordance with national standard GB / T2820, GB / T12786-1991 standard. Diesel engine self-strap dry air cleaner, fuel filter, lubricating oil filter; cooling radiator; use domestic diesel and oil. The AC generator is an AC H-level insulation with an automatic voltage regulator (AVR); 24V DC start motor. The unit is equipped with a set of high energy storage batteries and cables; the unit mounting and steel profile, the unit is self-contained in the changing device; the unit has an air switch, a water jacket preheating device, an oil preheating device; The controller is installed on the unit.
Diesel generator sets use environmental conditions, ambient temperature -25 ° C to +45 ° C; relative humidity is less than or equal to 90%; altitude height is less than or equal to 4000 meters.
After-sales service content, equipment quality inspection is 1000 hours, first arrived. During the warranty period, a product that has failed due to the problems such as components defects and manufacturing processes. During the quality assurance period, the company is responsible for replacement of defective or damaged components due to the quality problems of the equipment. During the warranty period, there is any shortage or fault that occurred due to the defects of design, process or materials, and the cost is burdered by our company. Our companyUrumqi, Xinjiang, Korla, Kashgar, Yili, Hetian, Aksu, Shihezi, etc. have established after-sales service centers, equipped with sufficient spare parts to meet customer needs, exempt from customers.

Jiangsu Xingguang Power Equipment Co., Ltd. was founded in 1974 and is one of the earlier manufacturers of domestic generator sets. There is a 64 sales service department in the country, which is ready to provide design, supply, commissioning, and repair a dragon service for users. Since 1982, the company has always been the\"National Internal Combustion Engine Generator Group Quality Supervision and Inspection Center\". At the end of 2001, the product quality passed ISO9001 standard certification. The Xinjiang Office of the Company was established in 1995 and has long-term imports, joint ventures, domestic diesel generators and spare parts for the majority of customers for 30KW-2000KW. support hotline:18999222000!