Installation and commissioning Xinjiang Weitai Heat Co., Ltd. 500KW unit
Views:0 Author:Site Editor Publish Time: 2021-03-14 Origin:Site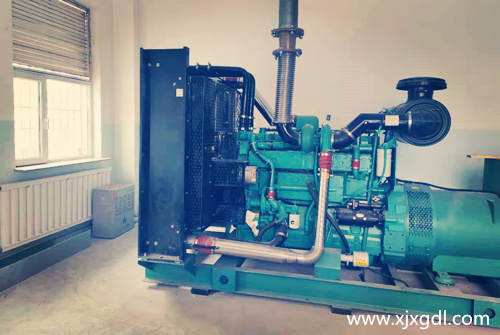 On June 23, 2019, the company's after-sales service personnel went to Xinjiang Weitai Heat Co., Ltd. installation unit. Xinjiang Weitai Heat Share Co., Ltd. This purchase of the unit model is XG-500GF, the power is 500kW, the diesel engine brand is Chongqing Cummins, the generator brand is Jiangsu Starlight. The company's after-sales service personnel haveUnits installation and commissioningAfter completion, the crew is running normally.
Xinjiang Weitai Heat Co., Ltd. is a shared company with a registered capital of 356.225 million yuan, and the number of employees is 333. The main business scope has heating service, except for the development and research of energy-saving projects (except for special approval requirements for the above projects); heating technology consulting services; municipal engineering construction; sales, equipment, house rental, etc., equipment, house rentals, etc. The customer is mainly for SMEs and individuals. After years of operation, the company's professional technology has matured, and the annual turnover reaches 46.2 million yuan.
Founded in 1919, Cummins engine was one of the three major brand engines in the United States. Since the beginning of the 1980s, after nearly 20 years of development, it has become the import engine brand of China's market share ZUI high, in China The customer has a high visibility.
Cummins have now become a manufacturer of 50 horsepower above 50 horsepower. Cummins have a well-selling sales and service network in China, and has a joint venture in China and Shiyan. Since 1992, Cummin Company and Jiangsu Xinglu Power Equipment Co., Ltd. have achieved remarkable achievements in the power generator market.
Jiangsu Xingguang Power Equipment Co., Ltd. was founded in 1974 and is one of the earlier manufacturers of domestic generator sets. There is a 64 sales service department in the country, which is ready to provide design, supply, commissioning, and repair a dragon service for users. Since 1982, the company has always been the\"National Internal Combustion Engine Generator Group Quality Supervision and Inspection Center\". At the end of 2001, the product quality passed ISO9001 standard certification. The Xinjiang Office of the Company was established in 1995 and has long-term imports, joint ventures, domestic diesel generators and spare parts for the majority of customers for 30KW-2000KW. support hotline:18999222000!